THE small town of Kuala Linggi in Melaka will soon be bustling with activity if a RM750 million project to reclaim 620 acres of land, forming an island in the Strait of Malacca, takes off as planned. And this could happen as early as in the first quarter of next year.
Plans for the artificial island include a 170-acre, 1.5 million cu m tank farm, a 60-acre fabrication yard, a 131-acre shipyard to undertake dry docking, a cargo wharf and a distribution park. The project is estimated to cost RM15 billion to develop and will have a gross development value of RM100 billion.
Steering the mammoth development called Kuala Linggi International Port (KLIP) is TAG Marine Sdn Bhd executive chairman Tan Sri Noormustafa Kamal Yahya, who was a seafarer in the 1980s and among the first batch of cadets from Akademi Laut Malaysia or ALAM. TAG Marine is the operator KLIP.
"I was a seafarer, I have sailed the seven seas. I know what shipping companies and oil majors need. I am building this [KLIP] to cater to their needs, so I'm sure it will take off," he tells The Edge in an exclusive interview.
On concerns that the proposed project could end up as a white ele­phant, he replies: "I can't afford a white elephant. Everything we have done, everything we have created, is from internally generated funds. We started small and rolled over whatever profits we made."
Since 2006, about RM900 million have been invested in KLIP's infrastructure and assets, including 12 tug boats that cost a total of RM500 million and other supporting assets. Unlike the other terminals in Malaysia, Kuala Linggi is a natural port that does not require dredging.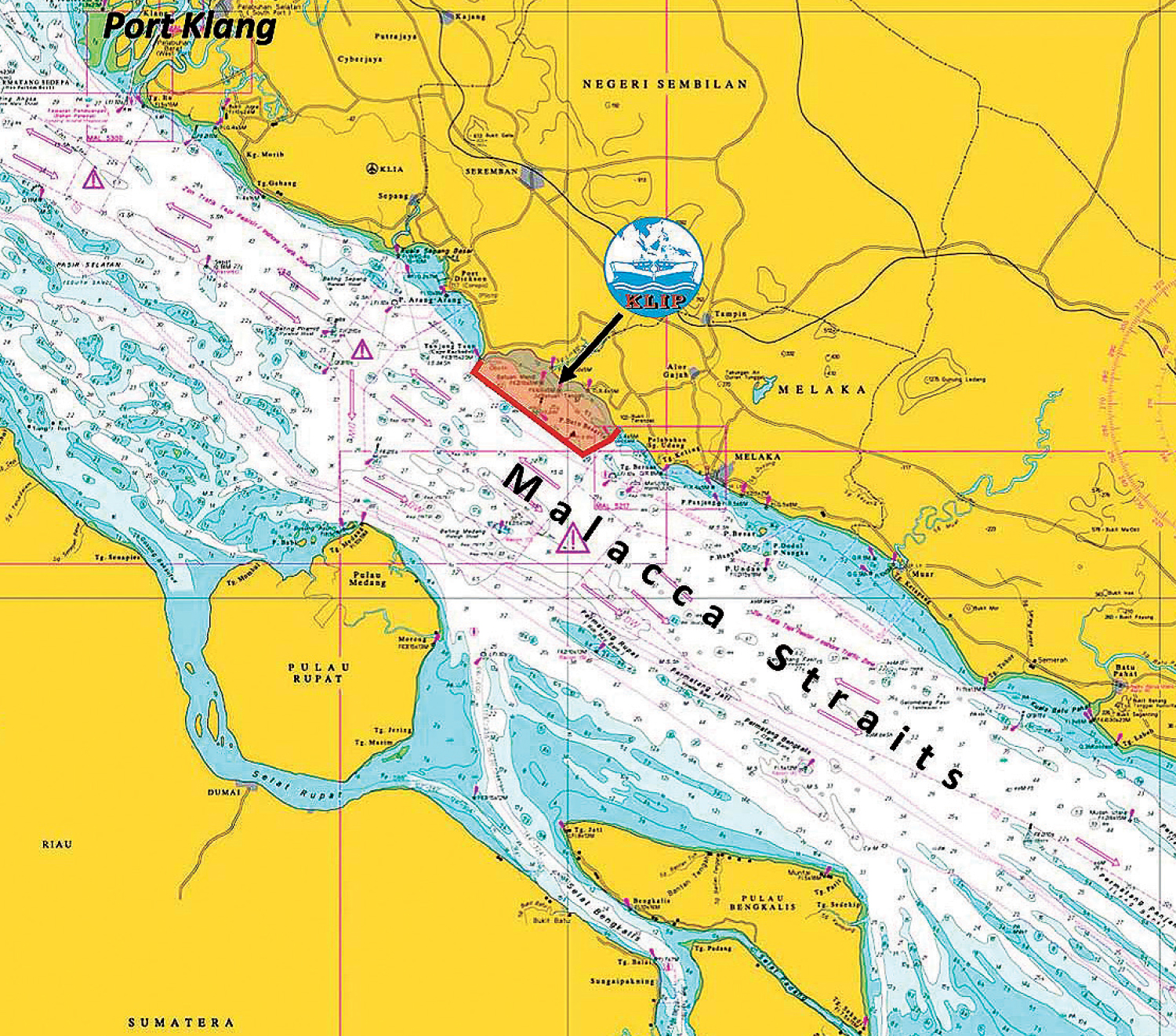 The merits of KLIP
KLIP has a port area of 255 sq km, giving it the largest operating area on the Strait of Malacca. This, coupled with a draft of up to 55m, allows the terminal to accommodate the largest vessels in the world.
Noormustafa says the plan is similar to that of offshore island Pulau Bukum in Singapore. Pulau Bukum is leased out to Shell plc, which operates two terminals — Shell Pulau Bukom and Pandan Distribution Terminal — there.
"We commissioned Royal Haskoning (a maritime project development and viability consultancy) to undertake preliminary studies and the preliminary master plan. We also engaged DHI, another big name, to undertake environmental and hydro studies, and we have completed the environmental impact assessment, bathymetric data verification, coastal marine offshore assessment, wildlife management plan, marine ecosystem offset, hydraulic study and fisheries impact assessment.
"After this, we will start the ball rolling with our reclamation project. We have shortlisted five (out of 24) candidates from an international tender for the reclamation works — three Chinese companies, one Dutch and one Belgian company.
"I am looking to award the (reclamation) contract by December [or] latest in January next year. Construction work should take two years. Taking into consideration all the factors, we hope to commence operations [on the reclaimed land] in 2027," Noormustafa says.
Adds KLIP CEO Datuk Hishammudin Hasan, "If this weren't a viable project, these big companies would not show any interest. This [KLIP] is not a new port, mind you. It has been operating since 2006, or for almost 20 years. When the port area was gazetted and designated in 2006, we took some time with this large development because of the many studies we had to do, but now we are going to take it to the next level."
Making the news internationally
Noormustafa says KLIP has three operating licences: one to operate a bunkering facility, another as a port of refuge, and the third for an industrial port. While the first two, bunkering and refuge, are already being utilised and generating revenue, the third, which involves building an industrial port, is underway.
While Malaysians may not be aware of what is happening at KLIP, Singapore Senior Minister of Transport Josephine Teo had in January 2017 been asked in parliament if KLIP might have any impact on the country's status as a regional shipping hub.
While Teo brushed off concerns of KLIP being a threat, saying that the fledgling terminal was only slated to store 1.5 million cu m of oil versus Singapore Port's 20.5 million cu m, the city state is understood to be watching developments at KLIP closely.
KLIP has secured as clients large oil and gas players such as BP, Shell, ExxonMobil Corp, Vitol, Petron, Chevron, Eni, Aramco, Trafigura, Repsol, Maersk Tankers and national oil company Petroliam Nasional Bhd, which may lease KLIP's tanks and utilise its dry-docking facilities and other services in the future.
"Recall in March 2021, when the 20,000 20-foot equivalent unit (TEU) container ship Ever Given got stuck in the Suez Canal? The losses were huge during the six days the waterway was closed, as more than 400 ships could not pass the canal. It is estimated that the losses were in the range of US$14 million to US$15 million per day, and US$6 billion to US$10 billion in estimated losses to global trade. Any hiccup at any choke point can set global trade back by billions," says Noormustafa.
It is worth noting that four times the number of vessels that utilise the Suez Canal ply the Strait of Malacca. This amounts to more than 100,000 vessels using the water­way annually, accounting for 75% to 90% of all energy shipments to North Asia. Fifty per cent of global container cargo, and 25% of all oil shipments between the Middle East and Asia, go through the strait.
Figures from the United Nations Conference on Trade And Development (Unctad) show that global trade hit a record high of US$28.5 trillion in 2021, out of which 70% or US$19.95 trillion was via sea transport, and US$11.4 trillion, or 40% of global trade, plied the Strait of Malacca. In the first quarter of 2022, according to Unctad, global trade ballooned to US$7.7 trillion, which annualised would mean global trade of US$30.8 trillion in 2022.
Some maritime agencies estimate that the number of vessels plying the Strait of Malacca will double to 200,000 by 2030.
"We are offering a solution that can help prevent any untoward incidents at choke points. With our deep draft, we can divert some of the large tankers here," says Noormustafa.
Since 2006, Noormustafa and TAG Marine have invested in excess of RM900 million in KLIP. Some of the initial seed capital came from a RM5 million investment by MIDF Venture Capital.
Companies Commission of Malaysia data shows that TAG Marine has a paid-up capital of RM100 million, with total assets of RM191.72 million and total liabilities of RM24.56 million as at end-March 2021.
For its financial year ended March 2021 (FY2021), TAG Marine registered a net profit of RM11.13 million on revenue of RM11.95 million. In FY2020, the port operator chalked up a net profit of RM9.43 million on revenue of RM110.03 million.
TAG Marine's shareholders are NMKAY Holdings Sdn Bhd, with 74.67% equity interest, Noormustafa with a direct 13.03% stake, Business Ocean Holdings Sdn Bhd with 10.62%, and Mohd Zanif Hashim and Agritrade Global Holdings Ltd holding the remaining 1.68%.
Considering NMKAY, which has a paid-up capital of RM150 million, is wholly owned by Noormustafa, this brings his total stake in TAG Marine to 87.7%.
When asked how many vessels KLIP hopes to handle in a year, Hishammudin says: "About 3% of the 200,000 vessels slated to ply the waterway. That is what we are targeting."
Another entity, Linggi Base Sdn Bhd, which is the master developer of KLIP, has already been set up with a paid-up capital of RM50 million. Its shareholders are NMKAY, which has 90% equity interest, and Noormustafa with 10%.
Things seem to have started well for KLIP. Giant Belgian tanker operator Euronav NV, which has a fleet size of more than 70, is undertaking ship-to-ship transfer activities at KLIP, having signed a service agreement in November 2019 for the Malaysian port to be its low-­sulphur marine fuel supply base. KLIP also supplies crews and provisions for all of Euronav's vessels plying routes east of the Suez Canal.
"We have not been in the news in Malaysia, but internationally, among the oil and gas and the LNG fraternity, we are well known," Noormustafa says.